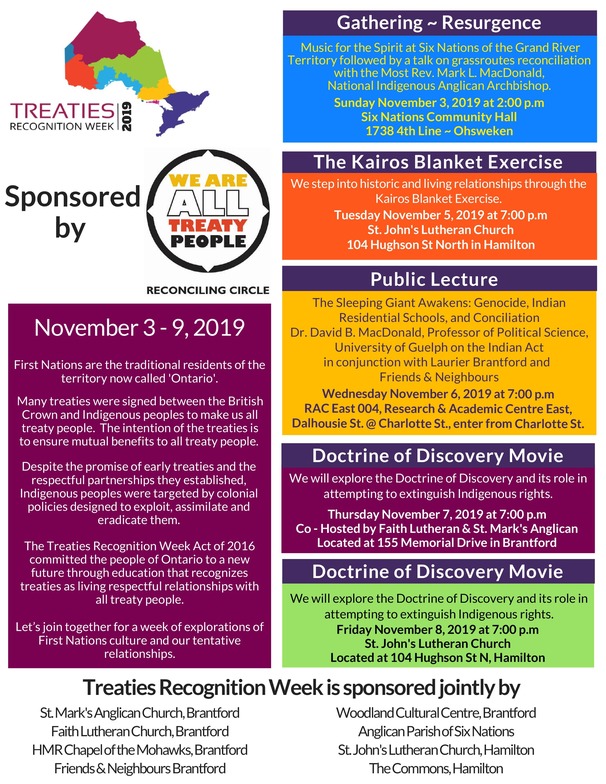 As Mennonite Church Canada, we made a commitment in 2016 to study the church-related recommendations of the Truth & Reconciliation Commission Report and to continue to learn and grow and follow the call of Jesus and our neighbours in the area of indigenous-settler relations. Working groups have been formed across Mennonite Church Eastern Canada to seek out and provide these learning and growth opportunities for our local congregations.
In Hamilton, HMC and The Commons are grateful for some existing relationships, including the connection to Reconciling Circle, a joint ecumenical group from Ohsweken, Brantford, Hamilton, Waterloo/Kitchener and surrounding area. In November, Reconciling Circle calls its neighbours to mark Treaties Recognition Week.
Treaties Recognition Week in Ontario (first week of November) is an opportunity to learn about promises made in the past (Ontario is covered by 46 treaties & agreements, click for map), listen to relationships of the present, and dream about possibilities for a shared and just future for indigenous and settler peoples within Canada. Aim to attend one or more of these excellent events:
Sunday November 3, 2019 at 2pm - Gathering - Resurgence
Six Nations programme calling forth musical gifts in youth followed by a talk on grassroots reconciliation with Archbishop Mark MacDonald, Anglican National Indigenous Archbishop
Six Nations Community Hall, 1738 4th Line, Ohsweken
Tuesday November 5 2019 at 7pm - The KAIROS Blanket Exercise
We step into historic and living relationships through the KAIROS Blanket Exercise.
St. John's Lutheran Church, 104 Hughson Street North, Hamilton
Wednesday November 06, 2019 at 7pm - Public Lecture
David MacDonald will talk about his 2019 book The Sleeping Giant Awakens: Genocide, Indian Residential Schools, and the Challenge of Conciliation
Wilfred Laurier University Brantford Campus
73 George Street, Brantford
Thursday November 7, 2019 at 7pm at 155 Memorial Drive, Brantford
+ Friday November 8, 2019 at 7pm at St. John's Lutheran Church, 104 Hughson St N, Hamilton
Doctrine of Discovery Movie
We will explore the Doctrine of Discovery and its role in attempting to extinguish Indigenous rights by watching the documentary movie and discussing.
The details on all of these events can be found at the Reconciling Circle site here.
To do some learning at home, start with these resources in the HMC library (or link below to borrow or buy from CommonWord):
Unsettling the Word: Biblical Experiments in Decolonization
Quest for Respect: The Church and Indigenous Spirituality
Yours, Mine, Ours: Unravelling the Doctrine of Discovery
Wrongs to Rights: How Churches can Engage the United Nations Declaration on the Rights of Indigenous Peoples
Buffalo Shout, Salmon Cry: Conversations on Creation, Land Justice and Life Together
Lifting Hearts Off the Ground: Declaring Indigenous Rights in Poetry